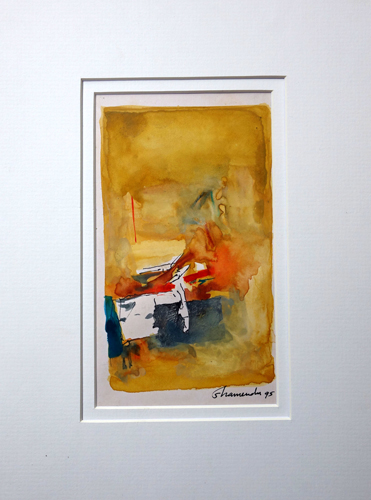 Watercolour on paper
6.5'' x 3.5''
Watercolour on paper
6.5'' x 3.5''
Watercolour on paper
6.5'' x 3.5''
Watercolour on paper
22'' x 15''
Watercolour on paper
15'' x 22''
Watercolour on paper
15'' x 22''
Watercolour on paper
15'' x 22''
Watercolour on paper
15'' x 22''
Watercolour on paper
10'' x 7''
Watercolour on paper
10'' x 7''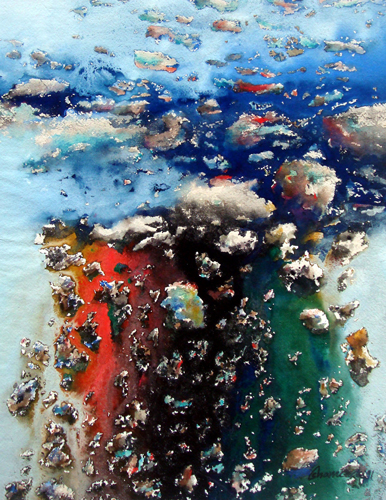 Watercolour on paper
19'' x 15''
Watercolour on paper
10.5'' x 14.5''
Watercolour on paper
7'' x 10.5''
Acrylic on canvas
52'' x 52''
Watercolour on paper
11'' x 7.5''
Shamendu Sonavane
Shamendu Sonavane ( b.1956 - 2013)
Like little birds in the sky, Shamendu Sonavane took a flight on the open horizon to capture the beauty of things all around us. Simple things done beautifully and eye catching.
Shamendu did it with the felicity of a veteran and with grace and ease. Gone are the ways where you present the sea shore and the landscape with multi coloured layers. Gone are the style, which is a poor replica of the photographic image, Shamendu captured the beauty of nature in his own style. A signature style, his own style, his own way, his own vision.
All things on his own but he took you along with him. You see coloured pebbles on the sea-shore, a wash of the fresh wave, a texture of the soft sand on the shore, a multi hued perspective of the vast horizon. It just washes and drenches you. You feel the beauty and smell of the colours in your system. All earthy colours, all earthly tones, and in such a canvas you find a red stone, a coloured pebble, a thing you just want to touch and take in your palms. You feel the beauty of the texture and feel the beauty of his strokes and you feel something beyond words.
A veteran like Shamendu kept returning to nature, as it is the ultimate muse, final reality. But, Shamendu created the charm of things which oscillates between the realistic and the abstract. An artist is the one who can share his vision with you and convince you to be part of his vision. Shamendu succeeded in his artistic endea vour. No replicating landscapes for him. Its his vision, his perspective, it is his colour combination, his strokes that strike you.
He keeps returning to his roots like a little bird in the sky, which takes great flight but comes back to its 'nest' for good.